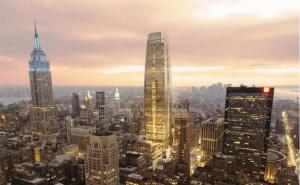 Just as the markets were starting to unwind in October 2007, real estate titan Steve Roth thought he'd hooked a giant fish. Merrill Lynch had been through a tortuous, hard-fought search for a firm to build its new world headquarters, and after pitting Mr. Roth and his Vornado Realty Trust against developer Larry Silverstein and landlord Brookfield Properties, the investment bank's CEO, Stan O'Neal, gave Mr. Roth the nod. Merrill Lynch wanted a new, Vornado-built headquarters across from Penn Station, on the site of the Vornado-owned Hotel Pennsylvania.
But just days later, preoccupied with $7.9 billion in write-downs, Merrill's board held off on voting on the headquarters plan, instead ousting Mr. O'Neal. The proposed $3 billion tower plan followed him out the door.
Now Mr. Roth, the hard-charging billionaire chairman of Vornado, is doing what can best be described as readying himself for the next Merrill.
On Feb. 8, Vornado began the city's land-use review process, the seven-month cavalcade of criticisms, recommendations and demands from residents and officials, which is the most significant public approval needed to demolish the hotel and build a new tower in its place. The reason for the review's start, according to statements Vornado representatives have made to government officials and others, is not because demolition of the Hotel Pennsylvania is imminent. Rather, the firm wants to be ready to pull the trigger should it ever find another tenant, saving itself the uncertainty and time requirements that come with public approval.
The Pelli Clarke Pelli-designed tower Vornado is proposing to build would be a giant arched obelisk, one that, at 1,216 feet, would soar to a few hairs short of the Empire State Building's peak and would eclipse all but the under-construction 1 World Trade Center to become the city's third tallest building. Vornado has been mostly silent on the topic publicly, but based on plans filed with the Department of City Planning, the firm has two similar designs it is putting through public review: One is for a single office tenant with a podium of large trading floors; the other, a slightly smaller tower, allows for more retail.
To win this shot of added density on the site, Vornado is offering an inducement of transit improvements, including the reopening of the "Gimbels Passageway," an underground walkway linking Penn Station and Herald Square, which has been closed for nearly three decades.
"It's going to be a tough one," Kevin Finnegan, Community Board 5's land-use chairman, said of the tower proposal. "It's really big. It's humongous," he added. "At the same time, it is an ideal place for a large building because of its access to transit, and there are significant and important improvements to the transit infrastructure."
THE EFFORT TO PREPARE the Hotel Pennsylvania for an office tower is part of a far larger scheme of Mr. Roth's. In the mid-1990s, he bought up much of the neighborhood surrounding Penn Station in a bet that an expanding midtown Manhattan would next sprout office towers in the long-grungy, transit-rich district. At the same time, he pursued a redevelopment and expansion of Penn Station that stood to open up millions of square feet of new development.