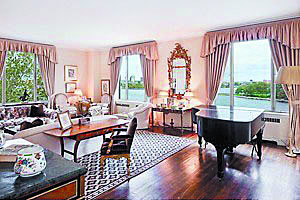 Tom Wolfe famously wrote of Manhattan real estate, "What drives people wild at bottom is the simple fact that le monde is sheerly divided into Good Buildings and those that, for whatever reason, are not Good." Ten Gracie Square is one such "Good Building"—there are only 42 in Manhattan, sayeth Mr. Wolfe—but unlike the majority of the Good Buildings that are on Fifth and Park avenues, 10 Gracie Square sits squarely on the East River. In fact, before the F.D.R. Drive cut off its riverfront access, the building acted as a boat club and hosted its own private yacht landing.
Around the same time, actress Joan Alexander and husband Arthur Stanton, the distributor who brought Volkswagen to the U.S., took up residence within the storied walls. Now the sale of that apartment has closed, and while we likely won't know the final price until the sale hits city records in a few weeks, a source close to the deal did say that it closed for under the $7.995 million asking price. The buyers are Clarke Murphy, an haute headhunter for Russell Reynolds Associates, and his wife, Whitney, and they were represented by Sotheby's Nikki Field.
The five-bedroom apartment, which was listed by Corcoran's Patricia Cliff, who declined to comment via her assistant, is "a grand 11-room, semi-duplex home, which abounds in architectural detail." The upper level of the apartment features two master bedrooms both with "bathrooms en suite" and one with a wood-burning fireplace. "Most rooms have sweeping views of the East River and/or Carl Schurz Park," according to the listing, as well as an "abundance of prewar detail" amid the interior, including a 12-foot entrance gallery.
Joan Alexander was incarnating Lois Lane on the radio hit The Adventures of Superman before Margot Kidder and Teri Hatcher were born, playing the raven-haired reporter for more than 1,600 episodes during the 1940s and early 1950s. The airwave actress, who died last May, and her automobile tycoon hubby, who died in the late 1980s, lived a Gatsby-esque existence that made the Murphys look like the Cleavers (big shoes for the new Murphys to fill, should they choose).
Daughter Jane Stanton Hitchcock—a New York Times best-selling novelist and playwright who writes deftly about the social milieu in which she was raised—described her parents' social heyday in a 2002 Times interview. The Stantons' legendary parties witnessed such seminal events as George Plimpton's proposal to his future wife, Freddy Espy; a skit written by Neil Simon for Jane's 21st birthday; and Leonard Bernstein's consistent seat at the family piano.
A slightly less theatrical though no less dramatic inhabitant of the building was Madame Chiang-Kai Shek, who lived in an 18-room duplex from 1975 to her death, at 105, in 2004. In addition to renting West Side Story, this reporter recommends that Mr. and Mrs. Murphy pick up Hannah Pakula's biography, The Last Empress: Madame Chiang Kai-Shek and the Birth of Modern China, to introduce themselves to the ghosts of their new home.