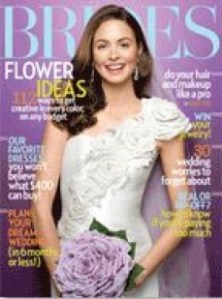 Conde Nast's sole remaining bridal magazine is going head-to-head with web rival The Knot, reports the Wall Street Journal.
Conde closed Modern Bride and Elegant Bride in favor of regular-type Brides last fall, but it's not out of the game! It's "doubling Brides' frequency, making it a monthly, and is introducing more digital services."
The Knot acnowledges Conde's power, but remains confident:
Condé Nast "is the 800-pound gorilla. We may reach more brides, but they certainly make more money," says David Liu, the Knot's chief executive officer. But, he says, "We run a very lean operation. That means we're going to be even more of a competitor."
Still, lest the lean web competitor get too cocky:
Like the Knot, Condé Nast sees opportunity. The bridal magazines it closed were struggling, but the closures were less a reflection of the category's health than of an industry wide effort by publishers to focus on their healthiest titles, says Carolyn Kremins, publisher of Brides.

"I feel like we're sitting on a goldmine," Ms. Kremins says, adding that while the magazine's typical reader is at an uncertain stage in life, "what she does know is she's going to be spending a boatload of money. So we're there to guide her through that process."
"Spending a boatload of money": always a crucial part of the game plan.