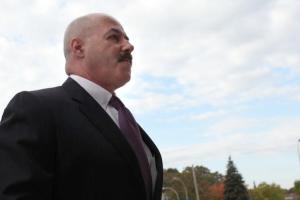 Federal prosecuters have recommended that former police commissioner Bernard Kerik serve 27 to 33 months in prison. The defense is requesting leniency. According to The Times:
Mr. Kerik's lawyer, Michael F. Bachner, filed dozens of letters attesting to Mr. Kerik's character, many of them from retired police officials who worked alongside him.

Former Mayor Rudolph W. Giuliani, who launched Mr. Kerik's career by naming him police commissioner and recommended him as the Bush administration's nominee to lead the Department of Homeland Security, did not submit a letter on his behalf.
The Daily News relays the feds' recommendations as well, and presents a decade-old "whiny email" that was included in the their report:
"I can't go to the Carribean [sic] or Florida on a three day stint just because my d— gets hard or because I need a rest," the former NYPD commissioner wrote to pal Larry Ray in 1999.

"I can't go out an buy a motorcycle or a car, or a Rolex watch at the drop of a dime, like I've watched you do."
Kerik will be sentenced on the 18th.
Elsewhere in police corruption, Mayor Bloomberg defended the NYPD's allegedly falsified crime statistics.
"There's always going to be some fudging of the numbers, but it is tiny," the mayor said, according to the Daily News. "I have an enormous amount of confidence in the data."
Meanwhile, one-time "real-estate-investment wunderkind" Adam Hochfelder has been "hit with a new indictment accusing him of $2.5 million worth of additional scams," writes the Post. He is accused of persuading friends to invest in resorts he supposedly owned.
And the Post reports that a fiberglass cow sculpture has been stolen from Seth Low Intermediate School in Bensonhurst. The cow is one of 500 that was displayed in the city ten years ago, and after a Seth Low class won a cow-decorating contest, the school's PTA purchased it. Most recently, students had painted it with the word "Peace" in 17 languages.
One student's thoughts:
"It's cruel and mean," said Niki Lam, 11, of the puzzling theft. "I think it was terrorists, because they don't like peace."