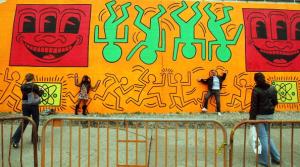 Violent crime has declined, but that does not mean you should feel safe.
"In a city where homicides have fallen to a record low, it may be overlooked that there are numerous ways to be killed in New York," writes The Times, "and those who die by accident have done so in numbers remarkably constant over the years."
Accidental deaths discussed by The Times include "watercraft accidents," "exposure to excessive natural heat," "exposure to the cold," "motor vehicle accidents," "unintentional drug poisonings," falls, and fires.
Besides, even if murder is down, there's always bank robbery. A pair of bank robbers was caught in Manhattan after attempting to take a getaway taxi; another pair is still on the loose after a string of holdups at Brooklyn check-cashing services.
Other evergreen sources of criminal activity are religious scams and potentially shady charities.
The Brooklyn DA is investigating whether a shadowy, Israel-based Kabbalist rabbi bilked vulnerable New York Jews out of hundreds of thousands of dollars by offering divine promises for cash, The Post has learned.
And the Post reports on the mid-party disappearance of photographs commemorating Keith Haring, who died 20 years ago today:
Overebullient glitter- and body-paint-bedecked revelers may have walked off with two dozen Keith Haring-inspired photographs — together worth tens of thousands of dollars — that had been hanging on the walls at a Fashion Week after-party in Midtown last Thursday night.
Worth around $3,000 apiece, the large-scale portraits and murals somehow slipped out of the party unnoticed.
One rep for the hosting Hudson Hotel took a charitable position on the vanished prints: "I'm not sure if it was really a theft. Guests may have believed the pictures were there to be taken."