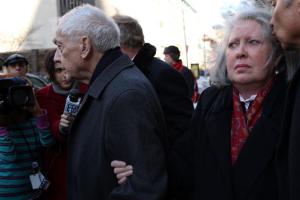 Astor drama continues. Judith DeMarco, a juror, has told defense lawyers that her vote to convict was based on fear for her own safety rather than belief in Anthony Marshall's guilt–DeMarco says that she "held out as long as [she] could," but ultimately felt threatened by other members of the jury. According to The Times:
She said that she thought [fellow juror Yvonne] Fernandez was flashing gang signs at her as she moved menacingly toward her, because Ms. Fernandez had previously told her that she once dated a member of the Latin Kings, according to the affidavits. Another juror had to restrain Ms. Fernandez, Ms. DeMarco said.
The defense has also obtained a series of email messages among jurors in which they discuss how to downplay the conflict in interviews with Vanity Fair and 20/20. The materials will be the basis for an appeal to be filed today.
Other unfinished legal business: the Post reports that the husband of a "beloved Upper East Side psychologist" murdered in 2008 has sued the building owners and managers who permitted a "cleaver-wielding schizophrenic" to enter his wife's office.
In more recent crimes, the Post notes that "three homicides in a five-hour span got the weekend off to a bloody start" late Friday night.
And a 22-year-old City Hall worker is brain dead after a Prospect Heights hit-and-run. Erin Phelan was out with Alma Guerrero, her roommate from Brown, when a green Acura struck the pair on Flatbush–Phelan managed to push Guerrero out of the way, bearing most of the impact herself. Guerrero has a broken collar bone. A cab driver took down the license plate number, and the Daily News says that police are now looking for the car's owner.
Finally, the Post spent some time at the Transit Adjudication Bureau with New Yorkers trying to get out of subway violations. It seems their efforts are largely in vain. For example:
Juan Berrios, 30, got a $75 ticket at the Broadway Junction stop on the L line because he moved between cars. He argued self-preservation, telling of the overwhelming body odor of a homeless man in his car.

"I couldn't stand it. The smell was atrocious," Berrios pleaded, to no avail.

Four teens fought tickets for using student MetroCards on a school holiday.

[Iva] Reka, a student at Franklin Delano Roosevelt HS, said she was dropping off a résumé for an internship.

She said it took an hour to find out she lost — but ironically, "it was so fast to pay."