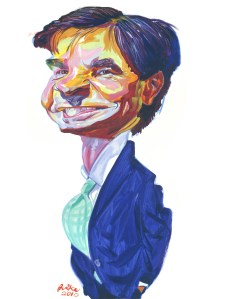 On the morning of Wednesday, Feb. 10, George Stephanopoulos was sitting in the Good Morning America studio, overlooking Times Square, crossing his legs. Lady Gaga and Cyndi Lauper sat a few feet away. Outside a blizzard was swirling. Viewers were snowed in.
Mr. Stephanopoulos sized up his guests. Ms. Lauper was wearing a black floppy outfit with lacy sleeves. Lady Gaga wore a crown of safety pins. Or was it a nest? The two pop stars were holding hands. "You are all the glam Thelma and Louise," said Mr. Stephanopoulos.
It was Mr. Stephanopoulos' 49th birthday. What a crazy year it had been! Just last night, on the eve of the snowstorm, he had gone on Comedy Central's The Colbert Report. Predictably, that joker had asked him a variation of the same thing he'd been getting repeatedly since December, when ABC News announced that he was leaving the Sunday-morning politics circuit to replace Diane Sawyer as the lead anchor on GMA. Why get yourself mixed up with morning television?
If past was precedent, GMA was a stepping stone to becoming the anchor of ABC World News, as Charles Gibson and now Ms. Sawyer had already proved. But there was more to it than that. In this long-tail world of modern media, who got to be a generalist anymore? Maybe there was a new prestige in generalism. He told Mr. Colbert that he now can do hard and soft news. He gets to interview the president and Lady Gaga. "It is fun to stretch," he said.
Ever since Dec. 14, Mr. Stephanopoulos' first morning on GMA, he's been testing every muscle in his body to push beyond the political news. Along the way, he's interviewed the 17-year-old star of The Wizards of Waverly Place, a jewelry thief, the author of Eat, Pray, Love, a cyber-bullying expert, Jackie Collins, a pregnant Amy Adams and an aerial performer who'd survived a scary fall. He's discussed nail polish, floral arrangements, head lice, Oscar picks, pregnancy. He's received a lesson from Emeril Lagasse on how to cook chicken with Dijon herb sauce. He's tested out a touchless soap dispenser. He's observed that it's a "fine line between brave and stupid" when it comes to parachuting off skyscrapers. And he's reported on a wild panda being lured off a cliff by Chinese villagers using a banana as bait.
On deck for his birthday show were the actresses Jennifer Garner and Jessica Biel and the designer Diane von Furstenberg, who was there to talk about female empowerment. The estrogen quotient was cranked up high.
Mr. Stephanopoulos introduced Lady Gaga, who along with Ms. Lauper was selling lipstick to raise awareness about the danger that AIDS poses for young women. As a child, Lady Gaga had loved watching her mom put on lipstick in the morning. Such moments, she said, gave mothers a great chance to talk to their daughters about love and sex and AIDS. Around the world, there are any numbers of journalists who would shiv their own best friend for the opportunity to curl up next to Lady Gaga and flesh out her sex life in front of the cameras. Mr. Stephanopoulos, however, proceeded cautiously. He didn't pry. "Does your mom still take credit for your makeup?" he asked.
A few minutes later, the conversation circled back to sex. At that moment, the cameras caught Mr. Stephanopoulos looking over his shoulder, seemingly trying to get the attention of Robin Roberts, his GMA co-host, who was sitting on the other side of the studio. Lady Gaga noted that using a condom in the heat of the moment was hard "especially for older women, who maybe for a while haven't been with a man or a woman and act out of passion and excitement …"
"And starvation," said Ms. Lauper, laughing.
Mr. Stephanopoulos looked around again and, this time, waved his folder in the air. Hello?!? Ms. Roberts jumped in with a question. "We appreciate what you just said," Ms. Roberts observed. "It's O.K. for morning television. People need to hear that."
FROM THE GET-GO, various observers have questioned Mr. Stephanopoulos' suitability for the GMA job. Call it the reverse Katie Couric syndrome. As in, isn't he just a little too qualified for morning TV?
And yet let's not forget it's in the family. In 2001, Mr. Stephanopoulos married the actor Ali Wentworth, who among other things had impersonated Sharon Stone on In Living Color; played Jerry Seinfeld's girlfriend "Schmoopie" on the Soup Nazi episode; and written The Wasp Cookbook. Beginning in September 2003, Ms. Wentworth had co-hosted a short-lived syndicated talk show, called Living It Up. Sex was a favorite topic. Oversharing was the norm. Her approach toward television was completely different from that of her husband. "He's a very private guy," she told The Observer at the time. "And I've always used whatever was going on in my life as material, where he has used everything in his life to make sure it doesn't become material."
In front of cameras, Mr. Stephanopoulos has always been emotionally opaque. Throughout The War Room, the 1993 documentary about the Clinton presidential campaign team, which contributed significantly to Mr. Stephanopoulos' growing fame, the young director of communications is seen working alongside his friend and mentor, James Carville. Stylistically, the two men are a study in opposites. Mr. Carville is emotionally volcanic. Mr. Stephanopoulos is reserved. Toward the end of the campaign, Mr. Carville delivers a heartfelt speech to a roomful of staffers and breaks down in tears. Shortly thereafter, Mr. Stephanopoulos is seen on the phone delivering good news to Mr. Clinton. The moment seems ripe for Mr. Stephanopoulos' own emotional catharsis. When he hangs up the phone, a fellow staffer presses him for a reaction. "How do you feel?" she asks. "Are you happy? Or scared ? Or are you nothing? Or do you just want to cry, or what?" Mr. Stephanopoulos pauses. "The crying is before, maybe later, too," he replies. "Now, I'm just floating."
Some 17 years later, the War Room documentarians say they're not surprised at Mr. Stephanopoulos' latest career move. "He's much better suited to it than someone like, say, James Carville," director Chris Hegedus told The Observer. "George has always had a wide curiosity in a lot of things. We once told George that we had done a film on John DeLorean, and George was like, 'Wow—the gull-wing door car!'"
"He has such a winning, boyish quality," she added.
Some are less enthusiastic. "My line on George is that he is likable, but he's not knowable," said esteemed Newsday critic Verne Gay. "In those jobs, you've got to be both. He's obviously a really smart guy. He's got all the qualifications, times 10. He's highly professional. When the guy smiles and laughs, you like him. But when he's onscreen, you just don't know who he is. He's a real cipher."
Perhaps intentionally so. "You know, George is very methodical when he says something, like he's his own great spin doctor," Ms. Wentworth said in 2004. "I don't self-edit the way he does."