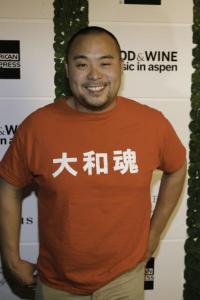 The Post's Steve Cuozzo noticed that it is surprisingly easy to get a table at David Chang's not-yet-officially-open Ma Peche. What's the deal? he asked David Chang.
Chang offers an array of explanations for why this is really not a problem at all and certainly does not reflect the restaurant's quality or its potential for midtown success. For example:
–"Preview menu" does not in fact "preview the menu."
"It is not really indicative of what we're going to serve," Chang said.
–Current space is bad; actual space will be better. Even though his previous restaurants' actual spaces are not so great.
"I know people dislike our restaurants for many reasons – they're uncomfortable, noisy and loud because everything's wood," he says.
–Seriously, the menu, it is not like the real menu.
"The burgers and stuff are just for the hotel," Chang clarifies. They'll continue to be served on the mezzanine, but, "We will not have hamburgers at Ma Peche."
–And, perhaps most tellingly: Not his fault.
"I'm an owner, but I'm just trying to focus on the East Village.

"First and foremost, the food will be [executive chef] Tien Ho's. I give him suggestions and I taste things. But Tien is creating the menu and his own team."