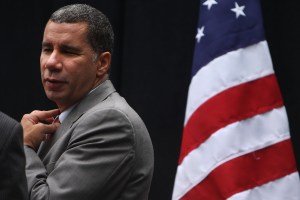 Governor David Paterson just told reporters at a brief press availability, "I have no plans to step down," and that, for now, he is continuing his campaign for election.
Paterson was speaking outside the Hilton in midtown, where he was to deliver remarks at the annual gala of 100 Black Men, Inc. of New York City.
The governor said he is not suspending his campaign, but, "I am talking to a number of elected officials around the state" to seek "their opinion."
"I'm obviously listening to them," he said.
Rep. Steve Israel, State Senator Bill Perkins and others have already called on Paterson to end his campaign.
Paterson declined to answer any questions about his involvement in the incident that threatens to end his political career, in which he and the state police reportedly contacted a woman who was filing a formal complaint of domestic violence against David Johnson, a top aide to the governor.
Paterson said he thought the attorney general, who is also his likely opponent in the gubernatorial election, can conduct a fair investigation.
Of the Democrats he intends to speak with, Paterson said, "I will weigh what they have to say."