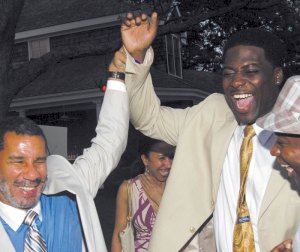 For years now, it has seemed that everywhere Governor David Paterson has gone, David Johnson has gone with him. It has occasionally been a bumpy ride.
For instance: Mr. Johnson, now a top aide, and Mr. Paterson have been involved in two car crashes together, neither of them reported until now.
The first incident happened at 4:15 p.m. on Friday, March 10, 2000. Mr. Johnson had been working for Mr. Paterson for only three months and was behind the wheel of a state vehicle—a 1997 Dodge Intrepid—waiting to enter Adam Clayton Powell Boulevard near West 126th Street. A bus grazed Mr. Paterson's car on the passenger side, damaging the rear back panel. Mr. Paterson, then a state senator, was in the car, as was Lila Kirton, whom Paterson aides later acknowledged (after he became governor in 2008), in addition to having been a state employee, was also his mistress.
Four years later, Accident No. 2. Mr. Johnson was driving Mr. Paterson and another staffer, Cheryl Burley, to New York City from Albany. It was 4:30 p.m. (not a good time of day for Mr. Johnson, apparently) on Tuesday, Feb. 3. Just after passing Exit 21 along the New York State Thruway, near the Catskills, Mr. Johnson "apparently hit 'black ice' and lost control of the car and hit a concrete guard rail," according to an internal report filed with the State Senate's operations department.
"The state police responded to the accident, and an ambulance was dispatched to the take the Senator and staff to Columbia Memorial Hospital in Hudson," according to the report.
"[N]o one was seriously injured," the report said, "They were all released from the hospital around 8:30 p.m."
Interest in Mr. Johnson and his relationship with the governor has spiked in recent days, amid speculation that The New York Times is working on a story on the subject.
While details of that story aren't known, a source close to the governor acknowledged having received questions about Mr. Johnson. (For its part, The Times has acknowledged that a Paterson story has been in the works, without addressing whether any of the speculation about its contents had merit; public editor Clark Hoyt published a column about the paper's position after a letter from the governor's office asked The Times to have him investigate the source of the rumors.)
In any case, Mr. Johnson clearly is one of Mr. Paterson's closest aides—despite having never worked for any other elected official. He has become even more important since Secretary Charles O'Byrne left the administration amid a mini-scandal over tax filings. Mr. Johnson, incidentally, has had his own money problems: A search of public documents shows eight judgments or liens against him for racking up debt to various creditors, including Discover Bank, Arrow Financial Services and the New York State Tax Commission. A spokesperson for the governor said those have all been paid off.
Mr. Johnson joined Mr. Paterson's staff in 2000 as a "body man" and driver, and as Mr. Paterson rose through the ranks to minority leader of the State Senate Democratic Conference, to lieutenant governor and finally to governor, Mr. Johnson expanded his portfolio as well. His official title is currently director of executive services, and he is paid $132,000 annually. Mr. Johnson, who holds a B.A. in government from John Jay College, is widely known in state government circles to possess enormous influence with the governor, functioning as a top political adviser and gatekeeper.
Numerous people interviewed for this article said Mr. Johnson, now 38, gives instructions to senior staff members, and that lawmakers and advocates seeking an audience with the governor usually find themselves dealing with Mr. Johnson instead, or at least first.
"It's absurd to suggest that David Johnson is just a body guy," said State Senator Eric Schneiderman. "David is a skilled political operative, and he's far more than a body person."
"He's not just someone who walks around with the governor," Mr. Schneiderman said.
This weekend, in Albany, Mr. Johnson's multifaceted role was on display. In the Hart Theatre at the Egg, where the governor was delivering a speech to labor groups, Mr. Paterson was besieged by well-wishers seeking photographs. So was Mr. Johnson. He threw an arm around two women who sought a picture with him as Mr. Paterson posed for his own photographs.
Below the Legislative Office Building, the concourse was jam-packed with clunky kiosks, wandering visitors and elected officials. Mr. Johnson orbited around Mr. Paterson. At one point, Mr. Johnson told a state trooper accompanying the governor, "Just give him a little bit of space. It's all right." During another stop, Mr. Johnson repeatedly encouraged photograph-seekers to step forward. He also suggested that campaign volunteers seeking a photo move to a less crowded location further down the concourse.
They did.
Later, when I approached Mr. Johnson for an interview, he politely declined, agreeing instead to field questions submitted to the governor's press office. He expressed reservations about speaking directly to reporters, especially in light of how, last week, unsubstantiated rumors about the governor—guesses, essentially, about what was going to be in the rumored Times piece—found their way onto the front pages of nearly every paper in the state.
After the Albany event, Mr. Johnson found a brief respite—sort of. In a moment when he was not accompanying Mr. Paterson, Mr. Johnson—dressed in a gray suit, with a vest and gold-colored tie—sat down at a chair in the lobby of the Crowne Plaza and fiddled with his BlackBerry. He picked his head up, shook hands and joked with people he recognized, which seemed like everyone. Then, after a moment, he returned to his BlackBerry.

apaybarah@observer.com
More from Azi Paybarah:
The Last of the Paterson Donors
Paterson Doesn't Believe in Coattails, Is Still Talking about Rumors