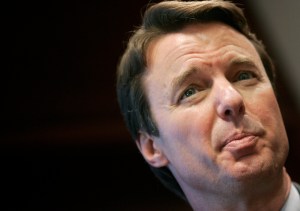 After weeks of interviews, an excerpt, an overdue acknowledgement, a spousal separation and a sex tape, Andrew Young's new book The Politician—about his life catering to John Edwards—is, well, not quite out yet. But it's close. So close, in fact, that The Times reviewed it today—and found it comparable to Mark Twain's The Gilded Age. And also sort of like a coming-of-age story.
"Replete with colorful anecdotes and vignettes, this forceful memoir offers a familiar, if a bit slippery, tale of lost youthful innocence," wrote Jacob Heilbrunn.
But, just like Mr. and Mrs. Edwards stole the show in Game Change, it's the mistress, Rielle Hunter, who waltzes away with Mr. Young's story.
"Hunter, not Edwards, is the truly fascinating character in this creepy little drama. As she observed about his lavish efforts to appease her during her pregnancy, 'not too bad, considering I was sleeping in my car a few years ago.'"