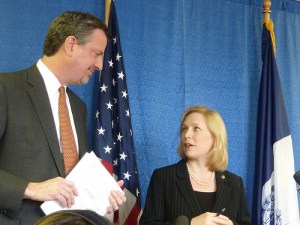 The Republican candidate attacked in the "swastika" mailer…is Jewish.
Chuck Schumer has more money than any senator up for re-election, according to USA Today.
Lloyd Grove hears grumbling about Eliot Spitzer considering a run for office.
Kirsten Gillibrand heads to Staten Island tomorrow.
Harold Ford's driver must greet him with a sign that says "H.F."
Ben Muessig tracks the bonus inquiry on Ford.
Ford hits back on the media.
Andrew Cuomo will be honored by Suffolk County Democrats.
Glenn Thrush enjoys Anthony Weiner's interview on "The Daily Show."
The Hill notices Weiner's comments too.
Who won the city's app contest?
Might there some consolidation in Monroe County?
And pictured above is very tall Public Advocate Bill de Blasio, and a less tall Senator Gillibrand.