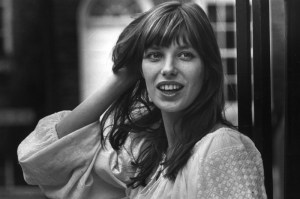 Jane Birkin stands on the cover of Serge Gainsbourg's 1971 album, Histoire De Melody Nelson, naked to the waist, covering herself strategically with a doll, her hair cropped short just below her ears. This is the same Jane Birkin that, two years earlier, had faked—or possibly had—an orgasm at the end of "Je T'aime … Moi Non Plus," her first duet with Gainsbourg, her future husband. The song was banned across the world. Appropriately, it peaked at No. 69 on the U.S. charts.
When The Observer caught up with Ms. Birkin, who lives in France, in her room at the Roger Smith Hotel on Thursday, Feb. 11, just a few hours before her second and final performance at the French Institute Alliance Francaise, the 63-year-old British-born actress, model and sex icon was breathing out of a vaporizer.
"You have to do it three hours before [performing] or else you spit like a cow when you sing," she said.
Ms. Birkin is no longer an international sexual fantasy. She's not the lascivious model from Antonioni's Blowup, exposing her entirely naked body to an entirely unexpecting audience. She doesn't get banned from the radio because she doesn't get played on it. She owns only one of the famous Hermés Birkin bags that she inspired. It was placed in the corner of the hotel room, tattered and overflowing with papers and tissues and business cards. Only now has the humbled sexpot managed to step out of the shadow of Gainsbourg, whose songs she continued to sing even after she left him for another man in 1980.
"After leaving him, Serge's songs were more beautiful because I sang his pain," she said. "I was no longer the baby doll. I was no longer that little image that he wanted."
Ms. Birkin's publicists circled the room informing us we'd only get another five minutes with her. They said she had to maintain her voice.
"Waiflike voice," she said, rolling her eyes. "I've heard it so often."
Sitting with her breathing mask in a shadowy corner of the hotel room, it was a far cry from Ms. Birkin's breathy exclamation of, "Ooo-eee je t'aime," on her famous duet with Gainsbourg, who died of a heart attack in 1991. She's only recently started to sing her own material, which was featured for the first time on 2008's Enfants d'Hivre, her most recent studio album.
"I'm getting older," she said. "I was nostalgic for childhood."
Ms. Birkin described a trip with her brother to their childhood home on the U.K.'s Isle of Wight.
"We'd found coins behind a fountain where my brother had hidden them 40 years ago," she reminisced. "Just as we found them, some fellow came out of nowhere and said, 'What the fuck are you doing in my garden?' And I said, 'It used to be ours.' All there was to hang on to was my darling Andrew, my brother. I just wanted to express myself."
At Ms. Birkin's concert later that evening, she stared out as she sang, transfixed on everything and nothing in particular, walking around as if hypnotized during musical interludes, prancing about to each member of her four-piece band, leaning against the grand piano like a lounge singer from another era. Her hair was cut short, like on the cover of Melody Nelson, and she was wearing an oxford shirt and tie with a vest and baggy dress pants, all of which made her tiny frame look even more frail. Her set combined English and French songs—plenty of Gainsbourg's as well as some of her own compositions. She unleashed an enormous smile after finishing one of them.
"You can't imagine how nice it is to hear people applaud a song you've written yourself," she said.