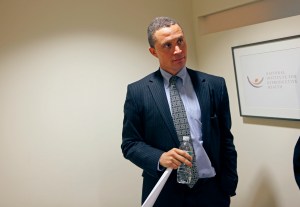 Last month, just after gay activist Jon Winkleman interrupted a lunch meeting between prospective Senate candidate Harold Ford Jr. and scores of the borough's elected leaders—an antic for which the activist was promptly thrown out—Mr. Winkleman promised reporters they would see him again.
"We're going to be bird-dogging Harold Ford everywhere we can," said Mr. Winkleman.
Today, a group called The Power—which posted a video of Mr. Winkleman's sabotage on its blog—announced its plan to protest a February 24 speech by Mr. Ford to the Stonewall Democratic Club in Manhattan, who extended an invitation to the potential candidate.
"Harold Ford, get this message through your head: 'Fool me once, shame on you. Fool me twice, shame on me,'" wrote The Power on its website, urging members to "crash" the speech. The group claims Mr. Ford promised the national Stonewall Democrats not to support the Federal Marriage Amendment—which he eventually voted for—when he was seeking the group's endorsement as a Tennessee congressman. (A spokesperson for the national organization has yet to return a phone call or an email.)
Through his spokesperson, Tammy Sun, Mr. Ford dismissed the notion that he had made such a promise. "Harold Ford looks forward to going before the Stonewall Democrats to talk about his commitment to marriage equality. He's hoping that the spirit of the invitation to speak will be matched by the willingness of the audience to listen," said Ms. Sun.
Mr. Ford has tried to bat down the notion he doesn't support gay rights, and has pledged his support for same-sex marriage. He has also compared his evolution to that of Senator Chuck Schumer–although critics of Mr. Ford have noted that Mr. Schumer never voted for a constitutional amendment prohibiting marriage.
The Power said Mr. Ford's potential opponent, Senator Kirsten Gillibrand, "has established herself as one of the most outspoken advocates of LGBT equality in the Senate"—a common refrain among gay rights groups, who Ms. Gillibrand pledged to support upon her appointment last year. (Ms. Sun, the spokesperson for Mr. Ford, said Ms. Gillibrand had made an "overnight conversion to marriage equality.")
"We have an opportunity here to send a message," said Jeff Campagna, one of the group's organizers. "The LGBT community needs to hold politicians accountable and not be shy about confronting politicians between elections, during the campaign cycle, while they're in office. If we wait until it's an election, then we are staking our entire future on one day."
As of this writing, The Power's Facebook invite has 91 confirmed guests and 165 who are "Maybe Attending." Asked whether the group has plans for other events, Mr. Campagna would only say: "We have been discussing plans."