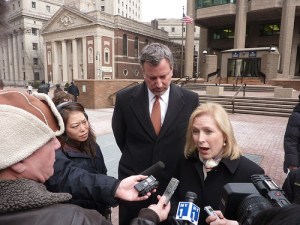 Kirsten Gillibrand said it's "essential" for Harold Ford Jr. to say whether he got a "taxpayer-backed" bonus while he was working at Bank of America.
"We don't [know] so, so I think he should be honest with the American people," Gillibrand said this morning at a press conference with Public Advocate Bill de Blasio, who endorsed her.
"Did he receive a bonus? Is it a taxpayer-backed bonus? I think it's essential that he disclose this information and I think it's only fair that New Yorkers have a right to know," she said.
The bonus issue has dogged Ford for some time.
De Blasio said he was "proud" to endorse Gilibrand. The two held a press conference in de Blasio's Manhattan office to discuss efforts to require greater restrictions on corporate spending on campaigns, which was recently made legal by a controversial Supreme Court ruling last month.
Gillibrand said she wants to ban companies controlled by foreign nationals from spending money on American campaigns, and is looking at whether to support legislation that would require shareholders to approve corporate contributions.
"I haven't heard from Harold Ford on this topic, and I thnk that speaks volumes," said de Blasio.
It should also be noted that both Gillibrand and de Blasio share a political consultant: Jef Pollock of Global Strategy Group, who was on hand for today's announcement.