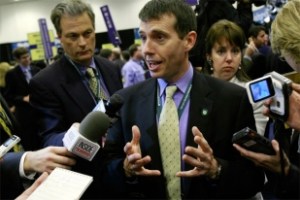 Kirsten Gillibrand's fund-raising breakfast with former Obama campaign manager David Plouffe on Monday is now being billed as a "state of the race" chat.
"This race has seen a lot of action lately, so we're sure to have a lively discussion," wrote Gillibrand campaign manager Ross Offinger in an email (with the subject line "Breakfast?") this morning. "Seems like every day there's a new angle, a new challenger – but all that just makes Kirsten more focused on fighting for our shared progressive values."
A donation of $250 dollars guarantees a seat, or supporters can give as little as $5 dollars for a chance to win a seat. (Technically, as with any contest, you don't actually have to give anything, but $5 is the suggested entry donation.)
"This is a great opportunity to get a top-level look into how a political race is run, and I can't think of a better person to observe than David Plouffe," wrote Mr. Offinger.
Mr. Plouffe–who was recently brought back into the White House fold after taking some time to make good on a lucrative book deal–is no stranger to political challenges. But assessing the state of an increasingly bitter race between an appointed incumbent and a carpetbagging former congressman who is currently campaigning as a non-candidate (and who won't have officially decided by then) should be its own unique challenge. Then again, Mr. Plouffe has, in the past, not been too shy to speak bluntly about an opponent's chances.