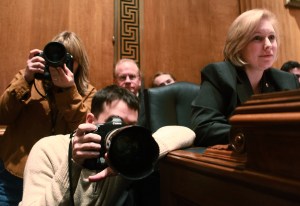 Last night, while Harold Ford Jr. was soaking up the headlines for going head-to-head with Steven Colbert, his would-be opponent, Senator Kirsten Gillibrand, was quietly appearing on Rachel Maddow to talk about today's "Don't Ask, Don't Tell" policy hearing in the Senate.
"I think now is the time to act," said Ms. Gillibrand who helped revive the issue, which hasn't been debated in the Senate since 1993. "It can be done and it doesn't have to take a long time. I trust the military to make a decision about what the best way to implement is, but Congress can take action now and provide the leadership that's necessary to repeal this policy immediately."
While Ms. Gillibrand has been focused on securing the support of the gay community ever since her appointment last year–and thereby focused on a number of gay issues–she cited her June meeting with Lieutenant Dan Choi–an Iraq War veteran facing discharge for admitting he is gay–as particularly inspiring. Ms. Gillibrand set up a special section on her website to catalog the stories of those affected by "Don't Ask, Don't Tell."
"[Mr. Choi's] story is so moving and powerful and inspiring to me personally, I thought that the more stories we could bring to bear into the public discourse, it will move this debate forward to a place where we will earn the 60 votes to repeal it," she said.