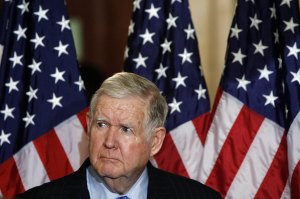 In November of 2005, shortly after Jack Murtha switched from being a supporter of the Iraq War to being one of its most outspoken critics, a newly-elected representative from Ohio, Jean Schmidt–who at that time had served for less than three months–stepped to the podium in the House of Representatives and assailed the 16-term congressman and Marine Corps vet. Ms. Schmidt said she had recently spoken with an Ohio legislator who was also a colonel in the Marine Corps Reserves.
"He asked me to send Congress a message: Stay the course," Ms. Schmidt said. "He also asked me to send Congressman Murtha a message: that cowards cut and run, Marines never do."
At that, the Democratic side of the House erupted in boos and jeers, hissing for the comment to be stricken. But one representative was particularly upset, reported the Washington Post.
Just as matters seemed to calm a bit, Rep. Harold E. Ford Jr. (D-Tenn.) suddenly charged across the aisle to the GOP seats, jabbing his finger furiously at a small group of GOP members and shouting, "Say Murtha's name!" Rep. David R. Obey (D-Wis.), who had led the chants for striking Schmidt's comments, gently guided Ford by the arm back to the minority party's side.
"The House will be in order! The House will be in order!" hollered presiding officer Mike Simpson, pounding his gavel. "The gentleman from Tennessee will take his seat! All members take seats!"
Ms. Schmidt then said her comments weren't about any specific member, and asked they be withdrawn.
As the House temporarily moved to other matters, a calm Ford said in an interview that he confronted the Republicans because he was angry that they were using a ploy to avoid "a real debate" about the war. "I said, 'If you believe it's about Murtha, then talk about Murtha, don't hide behind a resolution,' " Ford said.
Yesterday, through a spokesperson, Mr. Ford sent his thoughts on Mr. Murtha's passing.
"I was deeply saddened to hear about the passing of Rep. John Murtha. He was one of the greatest patriots ever to serve in Congress and a man of deep compassion, commitment and courage. Rep. Murtha's powerful advocacy on behalf of people who were powerless will be my lasting memory of his great legacy."