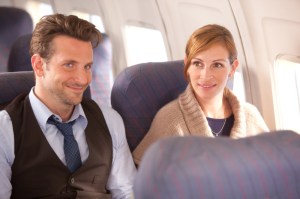 Valentine's Day
Running time 125 minutes
Written by Katherine Fugate
Directed by Garry Marshall
Starring Jessica Alba, Kathy Bates,
Ashton Kutcher, Jamie Foxx, Jennifer
Garner, Julia Roberts, Bradley Cooper, Anne Hathaway, Eric Dane, Shirley MacLaine,
Topher Grace, Taylor Swift, Taylor Lautner,
Queen Latifah, Hector Elizondo
Rating: One Eyeball Out of Four
Valentine's Day, another alleged ensemble comedy cut on the bias from the same bolt of zigzag fabric as Love Actually and He's Just Not That Into You, tells intertwining stories that knock themselves out trying to intersect at odd angles during 24 hours on one particular Valentine's Day in Los Angeles. It's a romantic piffle stuffed with so much candy that your skin could break out.
Directed by Garry Marshall, whose comic edge has grown hair in the years since Pretty Woman, this labored artifice strings together an "all-star cast" (by today's dubious definition, anyway) that runs the gamut from tone-deaf Flavor of the Moment Taylor Swift and movie werewolf Taylor Lautner to veteran Oscar winner Shirley MacLaine. Some make seismic tremors. Others barely show up on a Geiger counter. All have appeared in better venues elsewhere. The theory that even in troubled and dysfunctional times, the world unites in a burst of love every February is illustrated by a seemingly inexhaustible stream of pointless brushes with destiny. The characters include a TV sportscaster (Jamie Foxx) dispatched by his sadistic program director (Kathy Bates) to do a fluff piece at a downtown flower market, and a giddy florist (Ashton Kutcher) who gets dumped by his self-centered fiancée at the same time his best friend (Jennifer Garner), a schoolteacher, is left alone in bed by the dashing, newly divorced doctor she loves (Patrick Dempsey of Grey's Anatomy), who says he's flying to San Francisco on "business." Meanwhile, the handsome liar turns up at the flower shop to buy red roses for somebody else before driving his red convertible home to his wife and family. In a Malibu beach house, a superstar sex-symbol quarterback (another hunky Grey's Anatomy star, Eric Dane) announces his retirement from football to the horror of his butch press agent (Queen Latifah), who is struggling to keep his hottie image alive while breaking in a new motorcycle-riding receptionist (Anne Hathaway), who earns extra money as a phone-sex expert. Grappling with airport security at LAX while heading her off from a wild goose chase to San Francisco to find the doctor, the florist ends up locking lips with the schoolteacher, while two strangers (Julia Roberts and Bradley Cooper) wake up together on an approaching 14-hour flight and head for cliché-riddled roles on the ground. I hesitate to even mention Shirley MacLaine and Hector Elizondo as Estelle and Edgar, two old grandparents who fall out over one of the wife's old affairs, which must have happened before the invention of the wheel.
The script, by Katherine Fugate, is lame and contrived. The attempts at humor are a fake. The interlocking vignettes, with characters from one plot occasionally brushing elbows with participants from another plot, are like a collection of first impressions—too often with little or no cinematic trajectory, and almost always too fragmented to add up to anything substantial or convincing. The goal, I guess, is to paint a colorful canvas of sprawling Los Angeles on the only day of the year when the stores run out of Godiva chocolates. Director Garry Marshall literally licks you in the face trying to make you like all of these empty-headed people and slick, forgettable jokes. Unfortunately, the dots don't connect. It's amazing how you can get this many boldface names together on the same screen and still come up with something so boring. All you get of the real L.A. is the reason for so many canceled Facebook accounts.
The best scene in Valentine's Day is a party in an Indian restaurant for people who hate Valentine's Day. By the end of this superficial, club-footed Whitman's sampler of moldy bonbons, you'll be wondering what you have to do to get an invitation.
rreed@observer.com