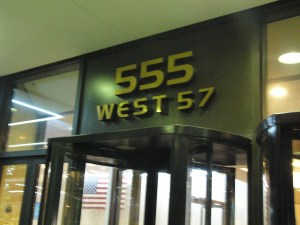 A looming snowstorm didn't deter the real estate industry's biggest movers from gathering at 555 West 57th Street on Manhattan's far West Side.
The event, which recognizes the 20 biggest leases of last year, took place on Tuesday night in a glassy BMW dealership, with a silver convertible on display in the center of the room.
A lease renewal and expansion by law firm Paul, Weiss, Rifkind, Wharton Garrison LLP at 1285 Sixth Avenue took top honors in an awards presentation by Observer publisher Jared Kushner and editor Kyle Pope. The lease weighed in at 540,944 square feet.
"The rebound is here," said John Ryan III of Jones Lang LaSalle, who represented landlord JPMorgan Securities and Lend Lease Real Estate Investments. "We are seeing a lot of velocity. The question is … how do you convert that to closed deals?"
In that regard, Mr. Ryan seems to be doing well, having recently closed another lease with law firm D'Amato & Lynch at 2 World Financial Center.
He says there has also been a shift to tenants looking to secure leases three or fours years in advance, a practice that would have been unappealing to landlords 18 months ago. But with the downturn, they've opened up, leading to numerous renewals.
"Landlords want stable cash flow," said Mr. Ryan.
But others aren't quite so optimistic.
"Thank goodness leases expire," said John Lizzul of Newmark Knight Frank. He was involved with a deal with ECT Capital and is in the process of another with Adobe Systems, but said, "It's still very difficult."
Ultimately, Robert Knakal of Massey Knakal might have summed up 2009, the year after the meltdown, the best.
"You're used to hitting 50 home runs a year. Then you hit five. The next year, you hit eight," said Mr. Knakal to a colleague. "Hey, I'm up to eight!"
rli@observer.com