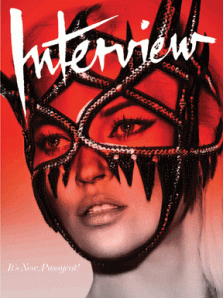 Interview just turned 40, and is taking the opportunity to trot out a digital magazine. The 40th anniversary issue will be available on the iPad, and HuffPo has a video of the Interview-for-iPad demonstration.
The magazine said in its announcement:
It's entirely fitting that Interview is once again at the forefront of reinventing the magazine experience for Apple's iPad, combining the benefits of the digital age with the familiar advantages of Guttenberg's printing press to deliver a groundbreaking, knock-out reader experience. One could call Interview magazine on the iPad 'an affordable Warhol screenprint.'
Forty evidently is not too old for wide-eyed optimism.