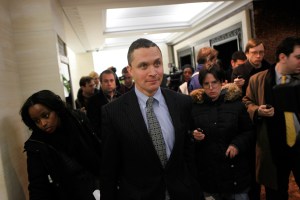 After ten years spent bashing Mort Zuckerman, and just over a month spent touting Harold Ford Jr., the Post took a turn on both fronts this morning.
"Run, Mort, run!" blared the paper's opinion page. "New York has a proud tradition of sending superior people to the Senate," they wrote, and while Mr. Zuckerman might not be Daniel Patrick Moynihan, he "would — on Day One — markedly improve the quality of the candidate pool."
Until today, that was supposed to have been Mr. Ford's role.
On January 10, the Post ran a rather glowing profile under the headline: "The spoiler: How Harold Ford Jr. will shake up New York politics."
On paper, he seems a dream candidate for the state of New York: A stylish, cultured, incredibly telegenic African-American politician whose profile is both high (he is chairman of the Democratic Leadership Council) and low (no one outside of Tennessee really knows that much about him).
"He is nobody's bitch," wrote Charles Hurt the same day. "Ford is a bucking bronco, a mustang that simply refuses to be harnessed or broken. Voters like that."
On January 26, an editorial said Mr. Ford "understands more about New York's vital interests than the senatorial sock-puppet he hopes to replace."
In its editorial this morning, the Post doesn't even mention Mr. Ford's name, suggesting perhaps it really was about Senator Gillibrand all along.