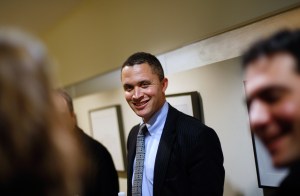 A reader contacted to me to say they knew–knew!–potential Senate candidate Harold Ford Jr. was in the field conducting a poll.
It's not unreasonable, since he's considering running against Senator Kirsten Gillibrand and has among his informal advisors Doug Schoen, a preeminent figure in the polling world. (Gillibrand counts among her key advisors Jef Pollock, a pollster who helps run things in New York.)
Mr. Ford might be trying to assess how sound was yesterday's Siena Poll, which had him trailling the incumbent senator, 42 percent to 16 percent among potential primary voters.
When asked if Mr. Ford's would-be campaign is polling, a spokeswoman for Ford, Tammy Sun, emailed to say "no comment."
Which is not a no.
UPDATE: Michael Barbaro has more details.