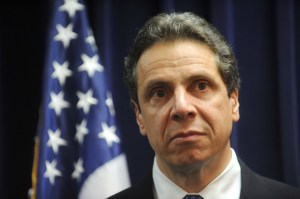 "Free checking means free checking," said Andrew Cuomo.
Anthony Weiner found a health care secret in President Obama's budget.
Congress is concerned about commercial real estate.
Fox mocks.
Joshua Ferris wrote the last page of The Unnamed on his BlackBerry at Home Depot.
The C.I.A. is moonlighting on Wall Street.
The Brunomobile is collecting dust.
Big sales for Bloomberg terminals.
Mayor Bloomberg has a date with Chuck tomorrow.
Bill Watterson, Salinger's companion at the intersection of beloved and reclusive.
Why can't other papers have Post-worthy headlines?
A conservative take on Don't Ask, Don't Tell from Tucker Carlson's new site.
Ben Smith is excited to be in New York's matrix.