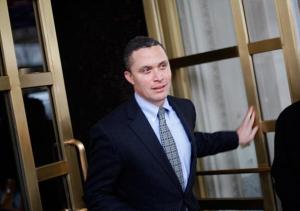 Harold Ford Jr. would like a separate exit and something to eat that's not shellfish.
Hillary Clinton will be Candy Crowley's first guest on State of the Union.
Larry Kudlow is 80 or 90 percent.
Tim Geithner doesn't think the economy will double dip.
A frequent plaintiff provokes an attack blog.
Just like The Wire! New York City wants to topple some housing projects.
The Madoff family is freezing.
… And their penthouse has gone into contract.
Restaurants don't want report cards.
Vogue's newsstand sales fell in the second half of last year.
A socialite attempts murder-suicide at the Peninsula Hotel.
Top public high schools: pretty white and Asian.
Moms may not understand everything about Facebook, but they certainly understand advertisements.