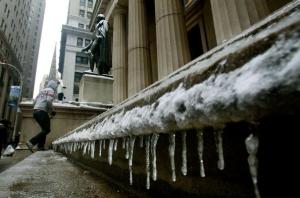 Wall Street is having a sleepover.
They can talk about how trading was normal.
Kirsten Gillibrand gets support of Bronx Dems.
The bonds to build Citi Field are officially junk.
And the Mets are out of cash.
Gerald Posner quits the Daily Beast.
Raj Rajaratnam's lawyer is trying to take down those wiretaps.
Someone is faking a devastating cyber attack.
Charlie Wilson died.
"Bright as a star and there you are."
Chanterelle sells its menu art.
Snow can stop many things, but it cannot stop Broadway.
NYU's dining halls are dirtier than the city's average restaurant.