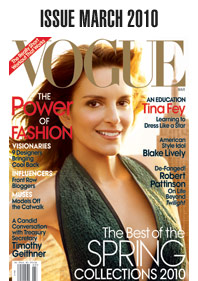 Vogue has sent out a letter on behalf of Tina Fey to promote her March cover appearance. Posted on Jezebel, it reads in part:
If you've always wondered what it would be like if the talented people of Prada, Gucci, Dolce & Gabanna [sic], and Vogue gave your forty-year-old sister-in-law a makeover, then this is the issue for you.
So: The plan is to act like Tina Fey is frumpy and can't spell "Dolce & Gabbana"?