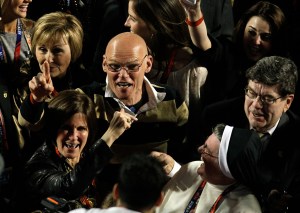 In the celebratory scrum after last night's Super Bowl, a distinctive bald dome and a pair of squinty eyes flashed across the screen. It was, of course, the First Cajun of Democratic politics, former Clinton adviser, star of The War Room, and outspoken Saints fan, James Carville.
On the Dan Patrick Show this morning, Mr. Carville said he "overindulged" after the win, but–like a true New Orleanian–wasn't feeling a hangover.
So how did last night compare to 1992, when Mr. Carville helped Bill Clinton derail 12 years of Republican dominance and unseat an incumbent president?
"I think it was a bigger high, oddly enough, when the Saints won, because I kind of knew we were going to win before," he said, and admitted he had shed a few joyful tears.
Mr. Carville–who supported Hillary Clinton in 2008–said he wouldn't be going to the White House to show the Saints around. And his only regret was not being in New Orleans for the big win yesterday–and the big win by Mitch Landrieu in the mayor's race on Saturday night.
"I think that Saturday and Sunday are the two best days New Orleans has had since 1815 with Andrew Jackson and the Battle of New Orleans," Mr. Carville said.