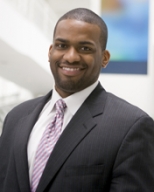 Among Newarkers facing an April 20th School Board election, the word on the street is not Hollywood's Avatar, but Brick City's own Shavar, as in 35-year old Shavar Jeffries, a civil rights attorney and former chief counsel with the state Attorney General's Office who ran the state's juvenile justice system and is now pursuing a seat on the School Board.
"Education is undoubtedly the most important issue we face as a city," said the married father of two and founding president of TEAM Academy Charter School. "Kids are absolutely the treshhold issue around which everything else revolves. Our babies deserve stronger and more community-rooted schools."
Child of a single mother who was killed when he was 10, Jeffries grew up with his grandmother in the South Ward, heavily dependent on the Boys and Girls Club before obtaining a scholarship to attend Seton Hall Prep and later going on to graduate from Duke University and Columbia University Law School.
Early in his carer, he defended the University of Michigan in affirmative-action litigation challenging its admissions policies, and represented Black farmers denied farming loans by the United States government. Later, he represented 30,000 children denied free tutoring services under the No Child Left Behind Act before moving to the AG's Office.
"I've been blessed to do for my family what I want others to do for theirs, and that's the reason I'm running," said Jeffries, running with school psychologist Ivan Lamourt and Shanique L. Davis Speight on a ticket that has the backing of North Ward Democratic Party leader Steve Adubato, Sr.
"My view is that public charter schools are public schools regulated by the Department of Education, and they play an important role as part of a piece of an education agenda," said the candidate, who teaches civil rights law at Seton Hall University. "Good charter schools place some competitive pressure on public schools – a good thing. Poor people need to have some more options.
"Vouchers are irrelevant right now, and not what we need to be focused on… We need more public schools within the public framework – public charter schools are one piece of a broad menu."
Adubato approached Jeffries about running for the School Board on a ticket that would supplant School Board member Samuel Gonzalez, who's now facing state absentee ballot tampering charges in connection with the 2007 campaign of his wife, state Sen. M. Teresa Ruiz (D-Newark).
"With the change of administration, it was pretty clear we were going to be out at the Attorney General's Office and he (Adubato) reached out to me," Jeffries recalled. "He thought I would be a great candidate. We've known each other for a while. Steve was very involved with the Boys and Girls Club. He knew about my record and my independence.
"I'm happy to have Steve's support, as well as broad support from people across the city," he added. "If we are going to accomplish what we need for kids, we can't afford Blacks against Latinos or ward against ward. If anybody looks at my record, it should be very clear I'm always going to do what's right for our community and for poor people with no political capital. I've filed lawsuits against the U.S. government and the State of New Jersey."
Jeffries hasn't yet talked to Mayor Cory Booker, but will, he said.
"I've reached out to the mayor and we should be sitting down shortly," said the candidate. "He was out of pocket as he preapred for the State of the City. We'll see if he will support our ticket. I'm very insistent that we need everybody. The reason our school system has failed for many decades now is we don't come together in an organized way. We need everybody. Think about: in a city of 280,000, 4,500 people voted in the last school board election. That's unacceptable."