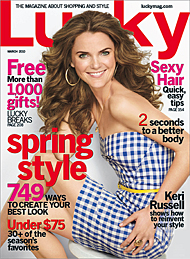 Michelle Myers will be taking over as the vice president and publisher of Lucky, reports Women's Wear Daily.
WWD writes that Myers "has her work cut out for her at Lucky, where ad pages were down 26.8 percent, to 1,241 ad pages, in 2009 versus 2008." Myers opts to stay positive, focusing on the magazine's "incredible" first quarter this year (a 17 percent increase in ad pages).
She comes to Lucky from People StyleWatch (one of the few magazines to see a circulation gain last year), and succeeds Gina Sanders, who left to head Fairchild Fashion Group.