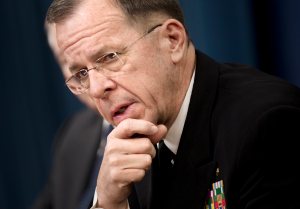 The effort to repeal "Don't Ask, Don't Tell"–championed by Senator Kirsten Gillibrand since her meeting with Lieutenant Dan Choi this summer–just received some significant support from the nation's top military officer.
"No matter how I look at the issue, I cannot escape being troubled by the fact that we have in place a policy which forces young men and women to lie about who they are in order to defend their fellow citizens," said Admiral Mike Mullen, who chairs the joint chiefs of staff. He said: "allowing gays and lesbians to serve openly would be the right thing to do." Secretary of Defense Robert Gates seconded the view.
Mr. Mullen is the first sitting chairman to advocate for repeal of "Don't Ask, Don't Tell." And in case there was any doubt about Mr. Mullen's statement–given before the Senate's Armed Services Committee in a hearing that Ms. Gillibrand has been pushing for awhile–he made sure to reiterate his support on Twitter. "Stand by what I said: Allowing homosexuals to serve openly is the right thing to do. Comes down to integrity," Mr. Mullen wrote.
The Washington Post is live-blogging the hearing here.
UPDATE: "Secretary Gates and Chairman Mullen made it clear that it is Congress' responsibility to act. Chairman Mullen, in particular, showed remarkable courage by not only expressing the view of our Commander in Chief, but expressing his personal views as well," Senator Gillibrand said in a statement. "Chairman Mullen and Secretary Gates demonstrated the kind of courage and leadership that is required to begin an honest conversation with our men and women in uniform and their families."