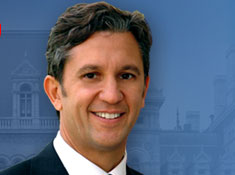 Is there any Democrat defending Paterson with as much gusto as Republican gubernatorial candidate Rick Lazio?
Today he wrote an open letter to Bill Keller, asking The New York Times to stop this "psychological warfare" against Paterson.
Of course, there's some indication here that it's not Paterson Lazio thinks he'll be going up against in the governor's race.
Mr. Bill Keller
Executive Editor
New York Times
620 Eighth Avenue
New York, NY 10018

February 8, 2010
Dear Mr. Keller
Your paper has generated a media firestorm that is directly hurting the Governor of the State of New York, David Paterson. This is not because of a story you have published, but because of the hype surrounding an unconfirmed story that has grown larger than the Super Bowl Halftime Show.
Your paper has a responsibility to report the truth, and the public expects nothing less. End the shroud of secrecy surrounding your potential story.
If the New York Times is working on or has a story, then you should confirm or print it. If you do not, then you have a moral obligation to stop the drama and the psychological warfare on Governor Paterson.

Unfortunately, these rumors about the Governor are a sad reflection of Albany politics. No public official deserves to be the subject of over a week of innuendo and nasty speculation. I hope you do the right thing, and do it soon.

Sincerely,
Rick Lazio