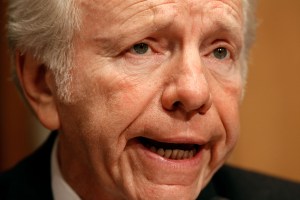 As recently as ten days ago–after months of prodding from the White House–it still looked like Senator Joe Lieberman might not back repealing "Don't Ask, Don't Tell." But this morning, the Senate's resident obstructionist said he'll be glad to support the policy's repeal–he'll even co-sponsor a bill to make it happen.
"I see this as an extension, the next step of the civil rights movement," Mr. Lieberman told the Daily News.
That's good news for Senator Kirsten Gillibrand, who has made her aggressive push for the repeal of D.A.D.T. a cornerstone of her commitment to gay rights groups–and one for which they've been quite appreciative.
"I commend Senator Lieberman for helping lead the charge to repeal a policy that weakens our nation both morally and militarily," Ms. Gillibrand said through a spokesperson. "There is tremendous momentum behind our cause. Opponents are on the wrong side of history. I will continue working with him and all my colleagues to pursue a legislative strategy to successfully repeal 'Don't ask, don't tell' as soon as possible."
How many votes will it take to repeal?
"We have to get 60 votes to repeal 'Don't ask, don't tell' or else it will remain in effect," Mr. Lieberman said earlier this month–in what might be a sign of the times.
But Senate Armed Services Chair Carl Levin wasn't having it. "Unless there is a provision inside the Defense Authorization bill, that goes to the floor, which would then require an amendment to strike it from the bill. In which case, the 60-vote rule would be turning the other way," Mr. Levin explained–meaning, in short, it would just take a simple majority.
"It is with great appreciation that I accept the higher wisdom of the chairman of the committee," Mr. Lieberman said.