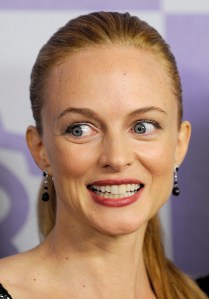 When the dust settled on Scott Brown's victory in Massachusets, and all those compromises with catchy nicknames were officially scuttled, a handful of Senate Democrats decided they really would like the public option after all.
And so they got down to brass tacks. Having been defeated by the need for 60 votes, to overcome that frustrating filibuster in the Senate's parliamentary procedure, they decided to pursue a different, even more obscure parliamentary procedure–a measure for approving the budget, ironically called "reconciliation"–that would require only 50 votes.
Four senators, including Kirsten Gillibrand, signed a letter urging Harry Reid to pursue reconciliation. Then a dozen or so more signed on, and then Chuck Schumer–the first member of the Democratic leadership–added his name. Suddenly, the public option was back!
So back that today, MoveOn.org recycled its footage from an October commercial, with a lithe Heather Graham stretching and sprinting as the personification of the public option. "The public option is making a comeback. Over 20 Senators and over 100 House members have endorsed putting the public option back on the table," says the narration.
Unswayed by Ms. Graham's portrayal, the White House said today the public option is not really all that back. "We have seen obviously that though there are some that are supportive of this, there isn't enough political support in a majority to get this through," press secretary Robert Gibbs said today.
The Progressive Change Campaign Committee, which is pushing the reconciliation, said the White House has a "loser mentality."