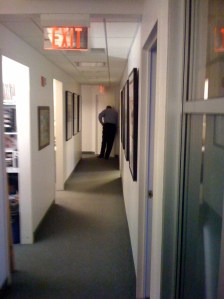 "Come to me!" proclaimed John R. MacArthur—better known as Rick—the longtime publisher of Harper's magazine in a staffwide meeting, which took place two days after he fired Roger Hodge, the magazine's editor.
Mr. MacArthur was telling his staff that if they had a big writer, or a big manuscript they wanted to get in the magazine, they should swing by his office, have a chat and—maybe—he'd write the check.
There would have to be, he said, "fundamental changes" in order for the magazine to be successful. He said the magazine lacked "extensive collaboration between business and editorial."
One week later, it's fair to say that Harper's staffers are feeling, well, a bit queasy about Mr. MacArthur's increased visibility in their lives.
"Roger [Hodge] was very good at being the focus of editorial power and being the sole person who had a relationship with the business side," said one staffer. "He was good about keeping Rick [MacArthur] out of our hair."
Perhaps as an indication that the trepidation of the editorial staff is shared with the business side, last week, while Rick MacArthur was being interviewed by New York Times reporter Stephanie Clifford, staffers noticed a senior member of the business staff leaning against Mr. MacArthur's office, with his ear pressed up against the closed door. Staffers said he was there for nearly a half-hour, and that he was quite evidently eavesdropping. A photo (above) was given to The Observer by a friend of a Harper's staff member, and Harper's sources confirmed that this was a photo taken of the business staffer during the Times interview.
A spokeswoman said that Mr. MacArthur was unaware of anyone listening in on his conversation.
It's all made for a nerve-racking week. When Mr. Hodge was fired, Ellen Rosenbush, the managing editor at the magazine, was named the acting editor. But at this point, staffers have no confidence that Ms. Rosenbush, or anyone else, for that matter, can stand between them and Mr. MacArthur any longer. Staffers said that Mr. MacArthur has given no indication that there is a search for a new editor. A spokeswoman for the magazine said that Mr. MacArthur is "open to possibilities" of a new editor, but there was no time frame for hiring a replacement, nor is a formal search under way.
While Mr. MacArthur celebrated his love for journalistic integrity—he told them at the meeting last week that he celebrates the moments when he pisses off a politician, or when an advertiser is angry with him—staffers are concerned that Mr. MacArthur may now be in a position to exert more editorial power than ever before.
"What's really happening here, and the thing that freaks me out the most, is we are going to be creating this magazine for an audience of one now," said a staffer. "He's going to be writing checks to see the magazine he wants to see."
"That he wants spending on big-ticket items at his discretion means he makes the call on what is worthwhile literature and journalism," said another staffer. "That is a new and significant editorial role for him to have."