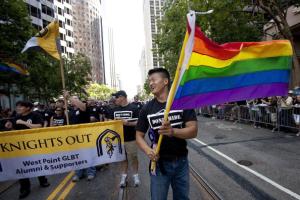 Army Lieutenant Dan Choi, who made national news when he was served with discharge papers after coming out on the Rachel Maddow Show, has rejoined his unit, according to Jeff Sheng at The Bilerico Project. Mr. Sheng, who spoke with the lieutenant, explained the situation thusly:
Apparently, Lt. Choi's commander has always been in full support of him, and even after Lt. Choi came out on The Rachel Maddow Show, his commander did not press for his discharge. The military did eventually serve Lt. Choi a discharge notification – essentially firing him from his job, but he was allowed to fight this at trial, and as it currently stands, the discharge has not been finalized. Given the current state of how DADT is in such flux, and also, in my opinion, the prominence and celebrity of Lt. Choi, his discharge might never be fully enforced.
A Quinnipiac Poll released this morning reports that 57 percent of respondents think gays should be able to serve openly in the military, and 82 percent think the military should stop pursuing disciplinary action against gays who are currently serving.
Senator Kirsten Gillibrand has frequently cited a June meeting with Mr. Choi as an inspiration to push the Senate for repeal of "Don't Ask, Don't Tell," which resulted in a Senate hearing that saw two of the top brass voice their opposition to the policy last week.
"Senator Gillibrand has said on many occassions that she doesn't want another servicemember discharged from the U.S. Armed Forces due to this discriminatory policy," said a spokesperson, Glen Caplin, by email. "She will not be satisfied until the 'Don't Ask Don't Tell' policy is fully repealed and every servicemember facing discharge can be reinstated to service."