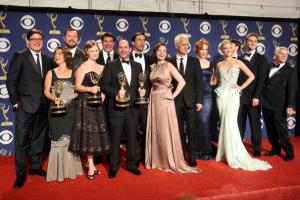 Smoking and casual sexism are not the only retro elements of Mad Men: Madison Avenue-style advertising itself is becoming a thing of the past.
The Times reports today that advertising professionals were not behind many of the Super Bowl commercials "deemed most effective, memorable and talked-about." Instead, the ads were devised by ordinary consumers, or made internally. Particularly noteworthy were a Doritos ad (customer suggested) and a Google ad (internal).
So what does this mean?
"The Super Bowl this year says consumer-generated content really can work," said Tim Calkins, a marketing professor at the Kellogg School of Management at Northwestern University.

Despite "a lot of advertising people" playing down the trend as "a seventh-grader in his backyard with a video camera," Mr. Calkins said, it complements efforts by marketers to engage and involve consumers.
Still: we can safely assume that the ordinary consumer or Google employee is no match for Don Draper when it comes to suit-wearing and seduction.