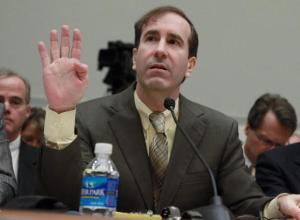 Bernard Madoff's nagging nemesis, Harry Markopolos—who tried repeatedly to alert authorities about the improbability of Mr. Madoff's astronomical returns—told Fortune magazine that bringing down "the big game" takes more than just crunching numbers.
"I am the antithesis of artificial or computer intelligence," said Mr. Markopolos, who was once press-shy, but is now promoting a new book called No One Would Listen: A True Financial Thriller, about pursuing the fallen investor.
How do you find the employees?

I go where their employees are. It could be a professional industries conference. It could be a bar near corporate headquarters. It could be other locations. I like the fieldwork the best.

[…]
What do you have, wigs?

I don't want to go into it because that would be stupid. That's operational security.
Sounds like wigs to me. Mr. Markpolos also said he checked under his car for bombs and carried a gun, out of fear for his safety.