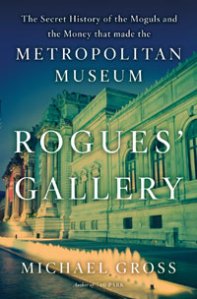 When Michael Gross' unauthorized account of the Met came out this spring, the author's provocative approach looked like a potential obstacle to the book's success: as the Observer's Reid Pillifant reported, society connections seemed to be keeping it out of the NYPL, and The Times didn't review it for a full two months.
But for the forthcoming paperback, Random House is making provocation a selling point.
Rogues' Gallery: The Secret History of the Moguls and the Money that Made the Metropolitan Museum has been recast as Rogues' Gallery: The Secret Story of the Lust, Lies, Greed, and Betrayals that Made the Metropolitan Museum of Art. Lust and betrayals! And should those prove inadequately intriguing, the cover image of the Met will be replaced with a celebrity photo collage featuring Anna Wintour, among others.
Gross is "thrilled" with the new look.
He says that his writing "tends to to ride the line between broadsheet and tabloid," but that when when Rogues' Gallery first came out, "instead of being treated as a serious book, it was treated as if it was incendiary trash."
So Random House "has decided to play by Chicago rules," he says. They've gone for "a jacket that fights back."