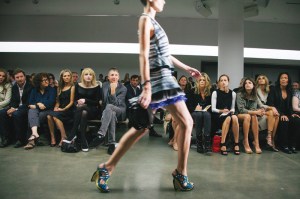 It was four days before the beginning of Fashion Week, but Mazdack Rassi, founder of Milk Studios on West 15th Street—which, with MAC Cosmetics, will be producing 32 shows and presentations this season—appeared utterly relaxed. Sitting behind a glass desk in a large, industrial office stacked high with art books, Mr. Rassi, a hunky 38, had just returned from a two-week vacation on Necker Island, the tropical island owned by Virgin's Richard Branson. Mr. Rassi and his new wife, the waifish fashion editor Zanna Roberts of Marie Claire, had sailed with Mr. Branson on the latter's 20-foot sailboat. "I beat him in poker," Mr. Rassi said, beaming. He had a deep tan.
On his computer screen was an invitation to brunch at Sam Talbot's Surf Lodge—not the original at Montauk, but a simulacrum at Milk to be set up during Fashion Week, joining one big noisy migration of fashion-industry coolness (from Proenza Schouler to Patti Smith) to the meatpacking district. By centralizing shows that have been happening off-site for years (and providing free BMW 740s to shuttle editors back to midtown, should they still want to go), Mr. Rassi and MAC are in effect staging a punkier, younger, more downtown Fashion Week, and challenging the sleepy Lincoln Center–bound tents, wilting in their last season in Bryant Park, as Fashion Week's ground zero.
MAC & Milk, as it's officially called, came together last summer when Jenne Lombardo, a MAC executive, called Mr. Rassi on his honeymoon to take him up on an idea he'd proposed about coming together to help young designers put on fashion shows in a turbulent economy. Both MAC and Milk had been involved in fashion shows for years—Milk, a year-round studio and event space since 1998, has hosted Calvin Klein's show for 16 straight seasons—but they produced their inaugural MAC & Milk event last fall, wrangling 25 designers and giving them a free venue and plenty of free makeup (their investment is about five times Milk's,). The idea, as Mr. Rassi described it, was populist and altruistic: to help out designers they already knew, who were part of the "family," and to make a desirable show venue available to small companies who might not otherwise be able to afford one. But unlike the tents—which, granted, can be prohibitively expensive, starting at around $25,000—you cannot choose to show at MAC & Milk. It must choose you.
"I'm a chosen one!" exclaimed designer Tim Hamilton, who is showing his secondary Redux collection at Milk this season (he shows his primary line in Paris), when The Observer reached him by phone recently. "They approached us about doing something and were very flexible about the fees. They understand independent designers and how we need assistance. They're very thoughtful."
Designer Jen Kao, who is showing at Milk for the second season, put it more bluntly: "There is a giant pile of people wanting to show there because of how well they've produced their collaboration. It's a hot spot to show right now."
Sophie Buhai and Lisa Mayock of Vena Cava got the call last summer, after a meeting with Anna Wintour at Vogue. "We were discussing having a fashion show or not having a fashion show, and we were discussing if we were going to be able to make it happen, and I guess Anna passed that knowledge on to them," said Ms. Maycock. And now: "I feel like there's a lot of talk about it. It's kind of a hot ticket."
Still, Mr. Rassi (most people refer to him as just Rassi) said the idea was to make Fashion Week less, not more, exclusive. He eventually hopes to get the entire meatpacking district involved in staging complementary events, and possibly even play shows on screens facing the High Line—to "share it with the public more."
He was vague about what makes a designer qualify, beyond a history with MAC and/or Milk. "It was really done through friendship," he said. "Who we wanted to be represented to sort of fit the overall idea of what MAC & Milk is."
SO WHAT is MAC & Milk? "We're MoMA, and the tents are the Met," suggested Mr. Rassi. "That's the best way to put it. Or we're like the New Museum."
With MAC, a company whose plain black packaging and careful celebrity endorsements (RuPaul, Fergie) have helped it retained "indie" cred even after it was bought by Estee Lauder, Mr. Rassi aims to carefully curate, under one roof, a museum-like mix of the new and the established, and to increase the flow of editors and buyers to young designers' shows and presentations. They've worked with the CFDA this season to group their presentations at the same time each evening, so that an editor showing up to see Alexander McQueen's lower-priced line, McQ, could also wander in to see Gwen Stefani's line, L.A.M.B., and a new line Mr. Rassi is particularly excited about, called LnA, which is hosting not a show but a party (Ms. Smith will play a set). "When we did Band of Outsiders last year, they brought in 10,000 pounds of sand and re-created a beach," said Mr. Rassi proudly. "And they built a little man-made lake that had a boat in it! That's what we want. That's how you get into MAC & Milk. We want to create."
For many designers, MAC & Milk has been nothing short of Fashion Week salvation. "We were looking at spaces comparable in size that were between $25,000 and $40,000," said Joseph Altuzarra, who will stage his second runway show at MAC & Milk this February. "They contacted us at a fortuitous moment, because we were having a lot of trouble finding something in our budget range. Then you still have to invest in lighting, a sound system, benches or chairs, a backdrop, renting backstage furniture, racks; there's a huge amount of investment that goes into a show."