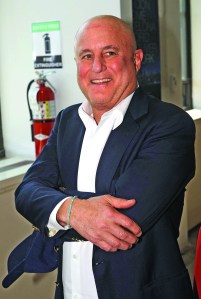 It is well known that billionaire Ronald Perelman—whose elusive ties to the Chabad-Lubavitch community are as speculated upon as his relationship to his luscious ex-wife, Ellen Barkin—owns two back-to-back Upper East Side townhouses: One, where he lives, faces 62nd Street; the other, facing 63rd Street, is used as his office. Less known is the fact that Mr. Perelman has built a private synagogue, a modest, one-room brick structure, in a garden space between the two buildings.
Mr. Perelman, who keeps a Kosher home, likes to be equipped and ready for prayer at all times. "He takes nine Jewish men with him wherever he goes, the French Riviera or East Hampton," said a source. (Mr. Perelman graciously puts members of the New York Chabad community in a nearby hotel on Friday evenings so they won't have to violate the Sabbath by taking the subway in from Crown Heights.)
Mr. Perelman does all of this even though he's two blocks away from the Fifth Avenue Synagogue—called a "who's who of world Jewry" by congregation member and author Herman Wouk. That congregation's other members include billionaire Ira Rennert, Nobel Peace Prizer Elie Wiesel, and Israeli Prime Minister Benjamin Netanyahu (when he is in town).
While Mr. Perelman's is the newest of the private synagogues on New York's Upper East Side, he's not alone! The Edmond Safra Synagogue, spectacularly designed by celebrity architect Thierry Despont, opened its doors on 63rd Street in 2003, having been envisioned as a specifically Sephardic refuge by the late Syrian billionaire mysteriously murdered in his Monaco estate in 1999 and completed under the guidance of his socialite widow, Lily Safra.
Further east, between Lexington and Third avenues, the old-guard Park East Synagogue welcomes non-Jewish guests such as Pope Benedict XVI along with Mayor Koch. "We're celebrating our 120th birthday this year!" Rabbi Arthur Schneier told the Transom eagerly, "One hundred twenty years young! And a few weeks ago, Bono came to services here."
And the star-studded, Reform Temple Emanu-El at 65th Street on Fifth Avenue boasts congregation members Mayor Bloomberg and former governor Eliot Spitzer; business bigwigs Leon Black, Irving and Herbert Lehman and Alan "Ace" Greenberg; and comedian Joan Rivers.
"It wasn't personal," Yehuda Ceitlin, a journalist and occasional member of Mr. Perelman's posse, said of the billionaire's private worship. "He just wanted the opportunity to daven in his own home."
"Synagogues are much a part of his life," added Lubavitch Rabbi Abraham Shemtow, a friend and spiritual leader of the cigar-smoking tycoon. "He wanted to have one right in his quarters; it is a personal and private place of worship. Members of the minyan know ahead of time if the services are going to take place according to schedule; like this weekend they are not happening because he will be in Florida."