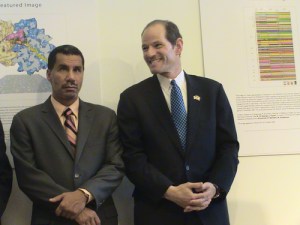 David Paterson spoke with lawmakers about his future.
Rep. Charlie Rangel is "not prepared" to share his view on Paterson.
The process by which the Aqueduct bid was chosen is designed by Eliot Spitzer and Joe Bruno.
It's the wood.
The bid winner, A.E.G., has some problematic connections.
Floyd Flake earns a lot.
He doesn't say much. "Flake declined to comment as he left church and drove off in a black Mercedes-Benz.
'Why would I talk to you?' he snapped at reporters."
Bertha Lewis is no longer a co-chair of the Working Families Party.
Something will happen to Hiram Monserrate tomorrow, most likely.
Malcolm Smith and Greg Meeks raised money for Katrina victims, but hardly any of it was disbursed.
Smith said it's "an outright lie" that he misspent the money.
1010 Wins picks up the story.
Michael Bloomberg's campaign total is not finalized because "Bills are still being reconciled."
The Post is interested in how Bloomberg spent some of that money.
The Times wants a compromise on the ethics bill in Albany.
Eric Schneiderman is introducing one today.
Rep. Steve Israel may have some Republican competition.
Mark Greenbaum thinks Eliot Spitzer is a better Senate candidate than Harold Ford jr.
Ford, the outsider, says Kirsten Gillibrand is using "underhanded" tactics to prevent him from running. The tactics: getting endorsements.
Ford huddles with Orin Kramer, and other money people.
David Saltonstall has more on Ford's college writing.
Michael Goodwin wants Andrew Cuomo to speak up now, and thinks Bloomberg "no longer gets it."
Wall Street turns against Obama.
Al Baker examines possible manipulation of crime statistics.
Assemblywoman Crystal Peoples-Stokes has missed another campaign finance deadline, according to Bob McCarthy.
The Post smiles at Reshma Saujani.
Steve Levy remembers his communist educators.
Eva Moskowitz opposes laying off teachers based on seniority.
Adam Lisberg follows the money that paid for train work.
Kristin Davis blah blah blah.
To stay alive, it needs to restructure, and shrink the number of beds.
The Post says: get rid of it.