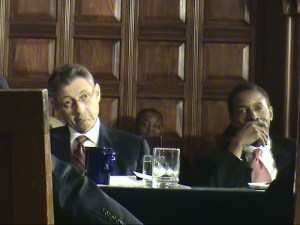 The state's deficit: $8.28 billion.
Thanks Wall Street.
Kirsten Gillibrand confronted President Obama on funding health care for 9/11 workers.
Michael Bloomberg pressed Janet Napolitano on security funding. She changed the topic.
Bloomberg now has a hearing aid.
Sheldon Silver said David Paterson "called me to personally and strongly recommend" Floyd Flake's group for the Aqueduct.
Silver, in a letter to Paterson, underlined that his support is conditional. "Let me reiterate — in the event our conversation and my letter were not absolutely clear."
Silver's letter makes the wood.
The Post doubts Silver's conditions for supporting the bid-winner can be met.
Daily News: "This doesn't even come close to the standards of competitive bidding and good government."
The Post calls Paterson "two-faced" for taking the high road on the ethics bill, and the low road on the Aqueduct bid.
The city's new technology commissioner has worked for the city since 2001, but voted in Florida in 2004.
The commissioner, Carole Post, and her husband were qualifying for a tax break on the posh Florida home. Post's husband is still claiming the Florida home as his main residence.
Paterson is still slipping in the polls.
Rep. John Hall has less money than his challenger, Nan Hayworth.
One of Rep. Mike McMahon's Republican challengers said, "As him a question: Congressman, were are the jobs?" The response? "He won't have an answer for you."
Paterson tries steering money to Long Island.
Steve Levy gave his state of the county speech. New initiative: wave sewer hook-up fee.
The city wants to close some day care centers.
Dan Rivoli checks in with Gale Brewer.
The M.T.A. is short $350 million.
Richard Brodsky criticized Bloomberg's extension of the No. 7 train.
Metro plays it big.
Bloomberg said the extension will spur economic development.
New York's high speed rail project "needs to be fleshed out." it got some federal money, but much less than California and Florida.
Carl Paladino may run for governor. Silver said Paladino benefited from having state agencies as tenants in his buildings.
And Pat Lynch says don't cut cops.