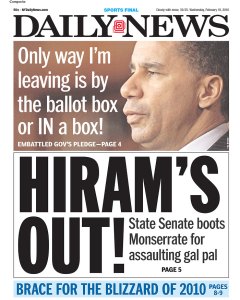 David Paterson blasted The New York Times.
The Times item about Paterson slamming the paper has this byline: "By The New York Times."
Gossip columnist Joanna Molloy thinks Paterson's press conference yesterday was a bad idea.
The Manhattan D.A. is investigating Michael Bloomberg's payments to John Haggerty.
Frank MacKay and John Haggerty were subpoenaed.
Ray Rivera explains the charges against Councilman Larry Seabrook.
Seabrook's lawyer, when asked about a $7 receipt made to look like it cost $177, said, "Bagels can be expensive."
Seabrook's mistress, also possibly a shady situation.
The thing I tweeted about…is the wood of the New York Post.
The D.O.I. commissioner criticized the way the City Council disperses member items, which Seabrook has exploited.
Hiram Monserrate said his role in the coup is "not a proper reason for expulsion." (He is allowed to by his old chair for $25.)
Monserrate's defense: "The actions that I've committed," he said, "do not rise to the level of expulsion."
Referring to himself in the third person, he also said, "Hiram Monserrate is the perfect scapegoat for your absolution."
Ruben Diaz Sr. :"Ladies and gentlemen, go ahead and get even – enjoy it."
Juan Gonzalez defends Monserrate, says only voters can oust him.
Monserrate's expulsion is above-the-fold news in Buffalo.
A lawyer in the Bloomberg administration, and not Seabrook, will chair the Charter Revision Commission.
David Weprin won in Queens in the elections yesterday, but Republicans won in Nassau and Suffolk Counties.
A person connected with a troubled charity linked to Malcolm Smith and Greg Meeks, has a shady past.