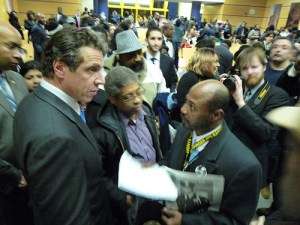 The debt ceiling just went up by $1.9 trillion.
Andrew Cuomo's lawsuit against Bank of America makes the front page of the W.S.J.
Cuomo is using the Martin Act against two bank executives.
The Daily News hit Paterson on the wood.
Lede: "Albany's twisted and shady dealings were laid bare Thursday night as the scandal surrounding the bidding to run the Aqueduct racino mushroomed."
"[H]e's walked away from our industry and that's unconscionable," said an unnamed member of the Partnership for New York City, referring to Chuck Schumer.
Adam Brodsky says if Michael Bloomberg can't cut spending now, it's never going to happen.
What hearing aids?
A letter threatening to protest outside a lawmaker's home won't lead to criminal charges.
Overtime at the M.T.A. is expensive.
William Safir won't face charges.
Did Bob Friedrich shift on same-sex marriage?
Eric Holder says Rudy Giuliani is playing politics.
And above is footage from Rick Lazio's press conference about having terrorists tried in civilian courts.