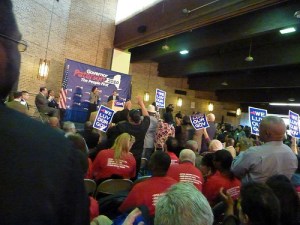 A City Hall worker is brain dead after pushing her friend out of the way of an oncoming car.
Michael Bloomberg withdraws all the money he had invested with Steve Rattner's Quadrangle.
David Paterson is the "Teflon governor," according to David Paterson.
Paterson exceeds Glenn Blain's expectations.
"Pathetic turnout" for the Paterson campaign.
Paterson "doesn't want" the job, says Hammond.
Paterson campaigned in Buffalo.
"[Erie County Democratic Leader Len] Lenihan said last week that he would not attend, then said Thursday that he would attend but not endorse, then did not show Sunday."
Paterson plays "the victim."
Charles O'Byrne is the architect.
"Gov. Paterson has 99 problems – and Jay-Z might be one of them."
DJ got football tickets.
Steve Levy fights his high school teacher.
Harold Ford's not-yet-candidacy has been good for Kirsten Gillibrand.
The chairity founded by Malcolm Smith and Greg Meeks stiffed Katrina victims.
Tempting Helen Sears.
"A Queens Republican source said that she has committed to vote against gay marriage legislation."
More Bloomberg 2012 talk. As expected.
Crains: Ford 2013.
Crain's wants fewer discretionary dollars.
Bloomberg's housing plan: preserve.
Cuomo was asked to probe the N.Y.P.D.
Mike Lupica blah blah blah.
Gays march in a parade for the Lunar New Year.
The Times echoes Christine Quinn.
David Harper will challenge Scott Murphy.
Judith Kaye won a no-bid contract.
City hospitals worry.
Gerald Boyd dishes.
And pictured above is the scene at Hofstra on Saturday where Paterson launched his campaign.