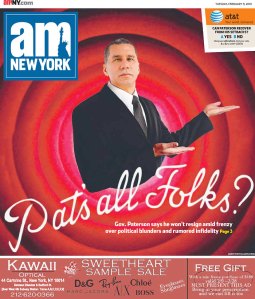 There are special elections today on Long Island, in Westchester and in Queens.
"Gov. David A. Paterson did not resign from office Monday under a cloud of scandal."
"Chaos."
No sex with "that woman."
Paterson will kick off his campaign on February 20 in Hempstead, then have a February 21 event in Harlem, according to Newsday.
"He's running," Bill Lynch says of Paterson.
Paterson tells Col Allan that the room where he was reportedly caught with a woman doesn't exist. Allan suggests there are probably closets somewhere in the governor's mansion.
Hank Sheinkopf defends Paterson from rumors. "It's a big gangup on the governor by the chattering classes, unless proven otherwise. It's not fair."
Dan Janison says the "news derivatives" are dipping.
Fred Dicker disagrees, and hits The Times. "By sitting on their supposed blockbuster of a story for nearly two weeks, the Times' scribes have created a paralytic frenzy in state government the likes of which have never been seen before."
If rumors are not substantiated it'll be like celebrity gossip, says one professor.
Paterson's veto of Albany's ethics bill survived. "One Democrat joined 25 Republicans in sustaining the veto."
That Democrat was Ruben Diaz Sr.
Paterson wants to raise taxes on city businesses to help the M.T.A.
Michael Bloomberg is "not thrilled" about the plan.
Republicans have real contenders. Financially, Hayworth leads Hall; Altschuler is gaining on Bishop; and Hanna breaks even with Arcui.
There'll be extra security in the State Senate today thanks to the vote on Hiram Monserrate.
Clyde Haberman ponders Monserrate's fate.
Michael Bloomberg doubts he'll get federal money for the terrorism trial.
Bloomberg, fourth most generous person in America.
Scott Stringer said linking teachers-union donations and the support the unions get from lawmakers is "complete nonsense."
Federal prosecutors are probing the Greg Meeks and Malcolm Smith charity.
Rudy Giuliani was not among the people wrote letters to Bernie Kerik's judge attesting to his character.
Authorities recommend Kerik serve 27 to 33 months in prison.
Kerik is considered a flight risk.
Efrain Gonzalez says he's not guilty anymore.
Roger Cohen distinguishes Silda Wall Spitzer from Jenny Sanford.
And Cindy Adams astutely observes that Paterson doesn't have a "cone of silence."