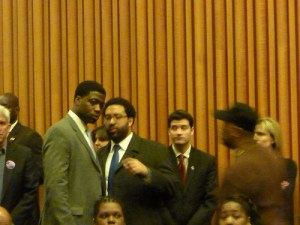 David Paterson aide was suspended without pay after it was learned he assaulted a woman. The governor and the state police contacted her. Andrew Cuomo was asked to probe.
The story is A1 above the fold.
Paterson aides deny he called the woman. She called him, they said.
Same-sex marriage advocates organize. Targets include Hiram Monserrate.
Harold Ford Jr. spoke to "the mostly gay" Stonewall Democratic Club.
Ford on his gay marriage evolution: "I falsely and wrongly believed that the two were equitable."
"The position I hold now is the right one."
Ford takes credit. "[The] numbers and support for marriage equality continues to go up is because people like me change our minds."
Ford said he never promised to oppose the Federal Marriage Act.
Queerty wonders if it was worth it.
Ford was confronted by Lt. Daniel Choi, who remains a skeptic.
MyFox Memphis: "Two Faces of Harold Ford Jr."
Ford, before the fireworks.
Some in attendance were glad to see him.
More anger from New Orleans directed at Greg Meeks and Malcolm Smith.
Teachers are near a deal.
Bill de Blasio wants more transparency for doling out discretionary funds.
Dan Maffei gets a challenger.
Dale Volker gets a primary challenge.
Liu: "[W]e have every right to weigh in and ensure our influence in the way executive compensation is managed"
Joe Bruno gives up money.
Gay City News has a glowing review of Alan Van Capelle's legacy.
And pictured above is troubled DJ, the Paterson aide.