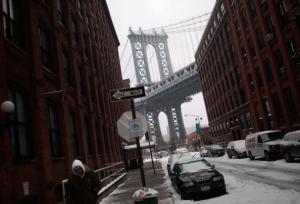 Perhaps you are at home, in the midst of this blizzard? The Times spoke to a number of"grown-ups" indulging in the pleasures of the "snow day":
Ms. Brodie, a 25-year-old e-commerce manager for Kate Spade … plans on spending her free day "watching TV and drinking mimosas" and possibly taking a nap. She said the only way her day could improve was if she were propped before a roaring fire, with "dinner cooked for me."
But some pretty great things are happening in New York's offices, too! And if you are at home, you are MISSING OUT.
About a half hour ago I was watching the snow fall when some women in the building across the street, who were also watching the snow fall, waved at me. I waved back. Now we are snow friends.
Missing out!