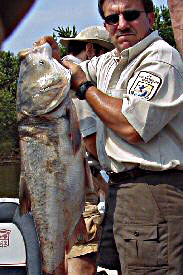 The House of Representatives just one-upped New York's public schools and canceled the rest of its week.
Earlier, committee chairs had been steadily re-scheduling hearings–even on seemingly urgent issues like those nine million potentially faulty brake pedals. "Due to the inclement weather set to impact the DC Metropolitan area tonight and tomorrow, Ranking Member Issa and I have agreed to reschedule the hearing on the Toyota gas pedal recall," said Oversight and Government Reform Committee Chairman Ed Towns in a statement.
But the havoc-wreaking Asian carp refuse to be postponed. "**Special Note***This hearing will be held as scheduled regardless of the Federal Government's operating status," reads the Transportation and Infrastructure Committee's website.
That should make Kirsten Gillibrand and Andrew Cuomo happy, since both of have worked to block the threat of the 100-pound, four foot long, ravenously hungry fish from spreading into the Great Lakes and New York's waterways.
"The lakes help drive our economy, draw tourism, offer endless recreation and provide drinking water for millions of families," Ms. Gillibrand said in a December press release. "The Asian Carp could potentially destroy all of that, disrupting the food chain and disturbing the natural ecosystem permanently."
A 2007 EPA report about silver carp–one type of Asian carp–is even more menacing.
Silver carp in the United States cause substantial impacts to the health and welfare of human beings who use waterways infested with silver carp. There are numerous reports of injuries to humans and damage to boats and boating equipment because of the jumping habits of silver carp in the vicinity of moving motorized watercraft. Some reported injuries include cuts from fins, black eyes, broken bones, back injuries, and concussions. Silver carp also cause property damage including broken radios, depth finders, fishing equipment, and antennae.
The Note reports they were brought to the U.S. in the 1970s to eat algae, and they can produce between 50,000 and 1 million eggs per year.
But none of that appears to have been the reason for the resilient hearing. Jim Berard, a spokesperson for the committee, said the weather isn't so bad in D.C. at the moment, and the witnesses had already come all the way to the capital, leaving the committee loath to re-schedule.
Mr. Barard doesn't expect to have all–or even most of the members–in attendance for the 2 p.m. hearing, but at least one important person will be there. "I think the chairman was suffering from cabin fever and wanted a reason to get out of the house," he said.